Looking for simple, inexpensive and gift ideas for special occasion or holidays? Mason jar gift is one of the perfect DIY gifts to make – it is easy to make, stunting beautiful to give away and heart warming to receive.
It was so fun to make that I ended up having a cupboard full of them! Whenever I need to give a way a gift, I will still have a hard time to choose one from it 🙂 Here are a compilation of DIY Mason Jar Gifts Recipes that I had stumbled upon and I hope it will inspire you in your homemade gift making. Show your LOVE to your friends, family, colleagues or teachers with these touching homemade DIY gifts.
Mason Jar Gifts – How to Make
First time making Mason Gift in a jar? Check out this video tutorial to get  an  idea what you will need and how easy it can be!
Brilliant Ideas for Gifts in a Jar
1. 
 Spa and Pampering in a Jar.
  Romance fragrance is in the air – your girlfriends will sue love it!
2. Cute flower pot in a JAR – perfect for wedding anniversary or memorial days for your girl friends.
3. One of it's Kind on-the-go drinks made from Mason Jar for those who workout
4. Super Cute Sport Mason Gifts Idea for those sport fans! Can't wait to start one for my hubby…
5. Loving this
 

Santa Claus jar.   It also includes a free gift tag printable!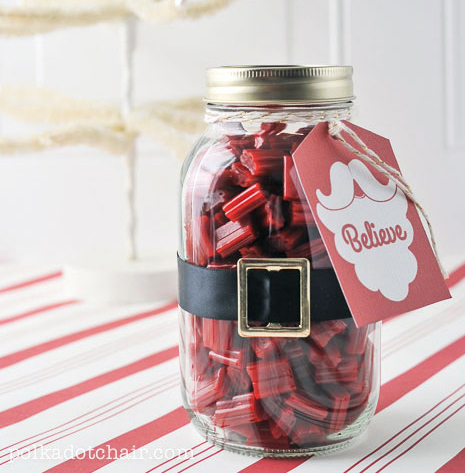 6.  Blue Christmas Without You
 

jar. Meant for those who you will not be able to see at Christmas.
Also, the idea of including a thumb drive containing your holiday video greeting is CLEVER!
7.  I love the way they created this
 

Hot Chocolate Mix.  It is very creative and nice looking!
8.  DIY
 

Playdough Mix

 

would be a hit with the neighbor kids!
9. The teens will love the

 

Sugar Scrub Jars! Love the bright colors and the included candy cane too!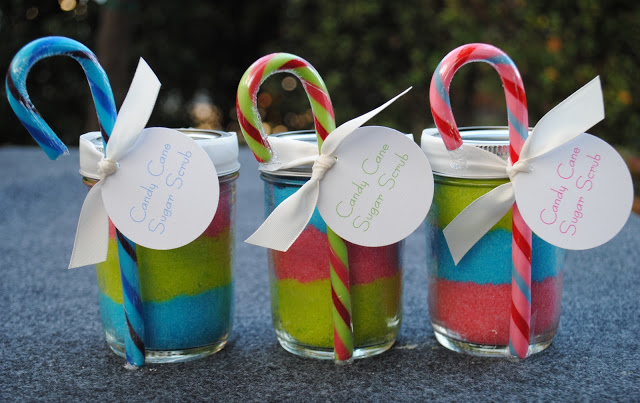 10.  Funfetti Candles.
 

 Cute enough to eat!  (but don't!)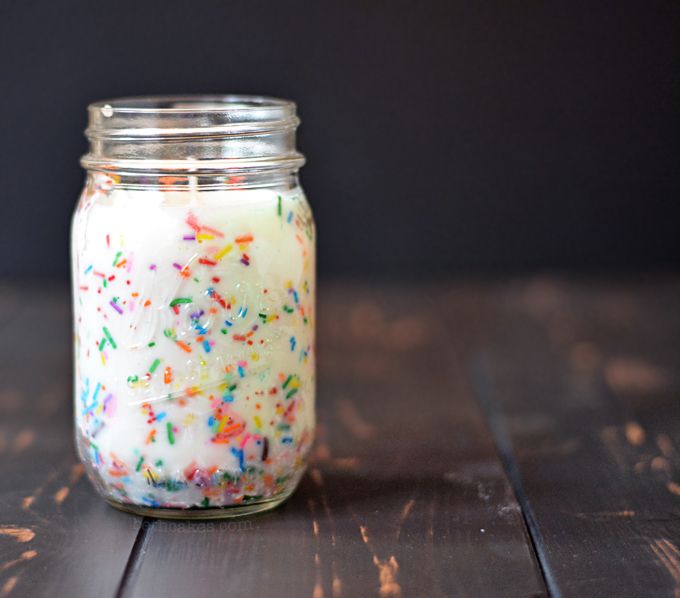 11.  Thankful for Sweet Friends Like You!

 

  A great hostess gift at either Thanksgiving or Christmas.  Also, includes free printable!
13.  This
 

Banana Bread Mix Gift Jar

 

is a great alternative to cookies and treats. The label also includes great step by step directions!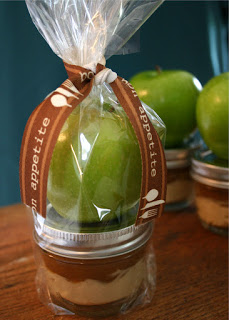 15.  Loving this
 

Bean Soup Mix!  It looks delicious!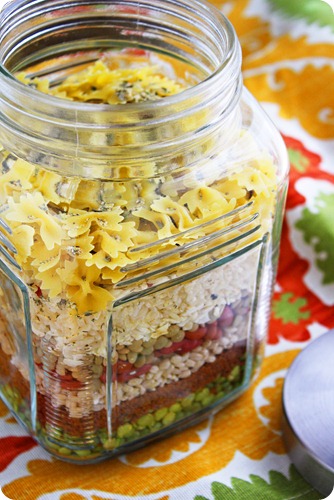 16.  A
 

Mason Jar Manicure Kit that then turns into a candle holder is brilliant!  I think I need this for me!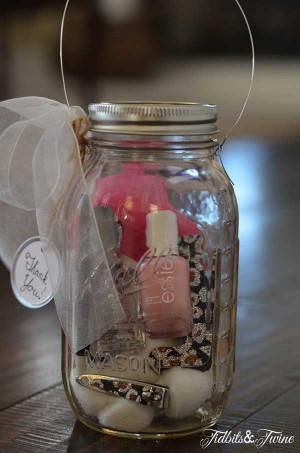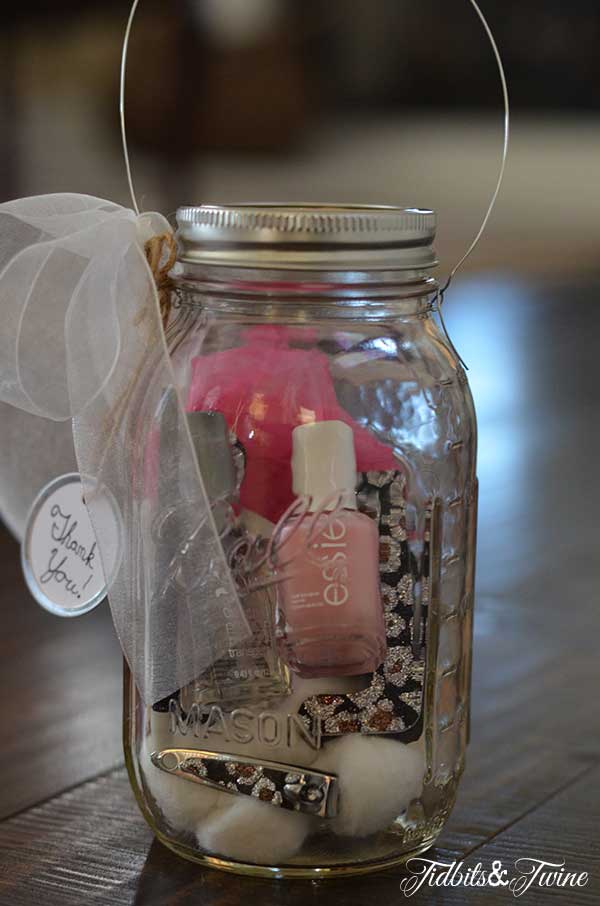 17.
 

 You're the Sweetest!

 

 Perfect at Christmas or really anytime!  Because who wouldn't enjoy a jar of sweets?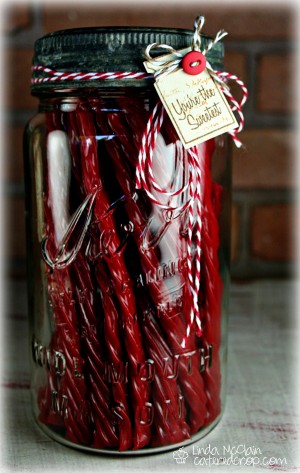 19. Teacher Mason Jar Gifts. Teachers love jars too! Download this adorable

 

teacher gift tag
 

and then fill up those jars today!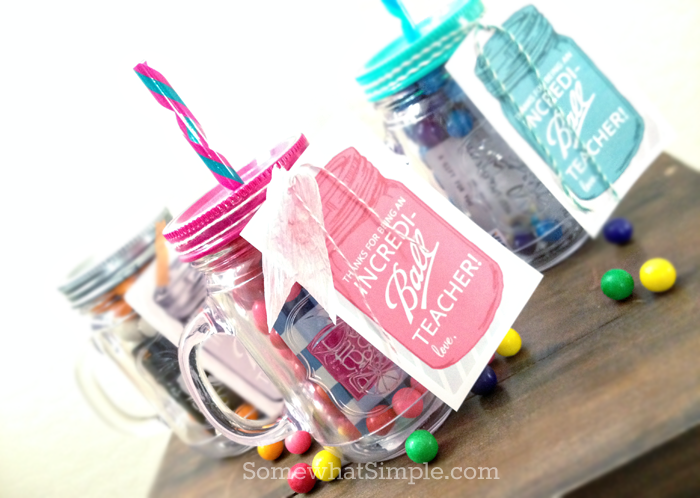 20.  A
 

Jar of Sunshine

 

will bring cheer to a loved one all year long!
While this is a regular jar it can easily be adapted to a mason jar!  Also, you've got to check out what is wrapped around each candy!  LOVE this idea!
21.  If Pretzels are more your thing, then this
 

Snowman Mason Jar Gift

 

is the way to go!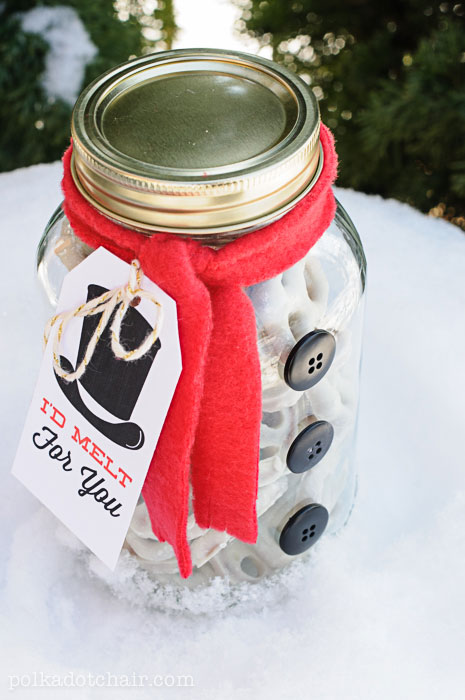 So beautiful that I almost forgot to take up the gift cards from some of the JARs i received.
23. Home Made Laundry Soap Neighbor Gift In A Jar from Doodlecraftblog
24. Tea Lovers Mason Jar Christmas Gift DIY creation from Stonegableblog
25. Mini Golf Date In A Jar Gift – Idea from 504main
26. Christmas In A Jar – Spices up your Christmas from nestofposies
28. DIY Beginner Sewing Kit Gift In A Jar – Appreciation for Mom and Wife – smashedpeasandcarrots
29.  Perfect for Those Who Craft – Mason Jar Gift from myuncommonsliceofsuburbia
30. Ginger Bread Play Doh Gift – Artwork from sweetsugarbelle
Read More →